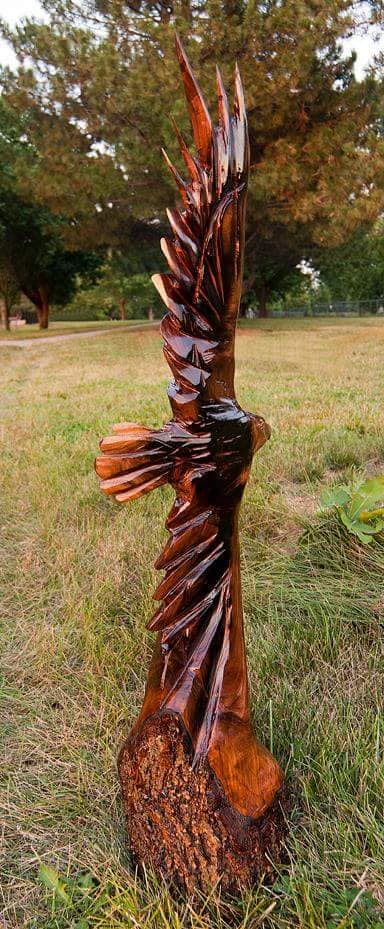 3 Timber Studio specializes in creative, custom woodworking. We produce one-of-a-kind hardwood furniture, chainsaw carvings and home decor.
Examples of our hardwood furniture include live edge tables and benches, trestle tables, unique theme furniture, and more. We like to use mortise and tenon joinery whenever possible, but are experienced combining modern metal elements with hardwoods as well.
Our chainsaw carvings have included nature scenes, animals, patriotic themes, scenic depictions, themed carvings and sculptural modern art designs. We pride ourselves on producing work that tells a story. We strive for accuracy in subject anatomy. The details matter. Most importantly, we work to achieve these goals on your budget.
3 Timber home decor and artwork examples include stained glass windows and glass art, long-grain cutting boards, live edge cutting boards, live edge serving trays, multi-colored epoxy elements, fireplace mantels and more. We can also custom carve designs into wooden signage, mantel faces, benches or doors.
Our Story
As a kid, Nate Hall spent summer vacations at a family cabin in northern Minnesota's lake country. The north woods created an impression from both a lifestyle and aesthetic standpoint that he's been drawn to ever since.
Nate has worked in the advertising and design field for over twenty years. He has held positions within design companies, advertising agencies and tech firms as a creative director, art director, photographer, illustrator, animator, video producer and digital artist.
While Nate's career has always been based in the art field, his passion has been in creative woodworking and fine art forged long ago by those summers visiting the north woods. 3 Timber is the embodiment of this passion.
Next Steps...
This is should be a prospective customer's number one call to action, e.g., requesting a quote or perusing your product catalog.